Victor Corces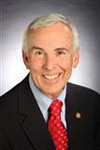 Stanley Fineman

Lawrence P. Jackson
Victor Corces was chosen to present in the National Institutes of Health Wednesday Afternoon Lecture Series. His lecture, "Throwing Transcription for a Loop: The Role of Chromatin Insulators in the 3D Nucleus," will be live online Wednesday, Dec. 14, at 3 p.m. Eastern time. (To watch, visit: http://videocast.nih.gov.)
Corces is Arts & Sciences Distinguished Professor of Biology in Emory College of Arts and Sciences.
Fewer than 40 speakers each year are invited to the NIH campus as part of this prestigious lecture series sponsored by the Office of the Director of NIH.
Stanley M. Fineman has been installed as president of the American College of Allergy, Asthma and Immunology.
Fineman is clinical associate professor in the department of pediatrics, division of allergy at the School of Medicine. He is also in private practice with the Atlanta Allergy & Asthma Clinic in Marietta.
Fineman served the previous year as ACAAI president-elect and has served in numerous other capacities with the professional medical organization.
Lawrence P. Jackson was awarded the 10th annual William Sanders Scarborough Prize by the Modern Language Association of America.
Jackson is professor of English and African American Studies in Emory College of Arts and Sciences.
Jackson received the MLA award for his book "The Indignant Generation: A Narrative History of African American Writers and Critics, 1934– 1960," published in 2010. The prize is awarded for an outstanding scholarly study of black American literature or culture.
Related: Book|Report podcast with Lawrence Jackson on "The Indignant Generation"
---